Form 5472 penalty increase to $25,000
Effective for tax years after 31 December 2017, the penalties for failing to timely file IRS form 5472, "Information Return of a 25% Foreign-Owned U.S. Corporation or a Foreign Corporation Engaged in a U.S. Trade or Business" have increased drastically from $10,000 per occurrence to $25,000. Please consult with your tax preparer and make sure that your taxes and extensions are complete and timely filed.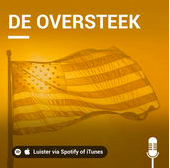 Dutch Podcast "De Oversteek"(The Crossing)
The Crossing, available at and or via the links below is a podcast series about doing business in the United States, developed by Koos Tervoren, of Microphone Media, in cooperation with TABS and other partners.
The series consists of a total of zeven episodes, each episode contains a discussion with a different expert sharing their insights and opinions on starting in the US market.
Please, find the links to the podcasts below (in Dutch):
Single Member LLC owners must also file the IT-LL-204 by March 15, 2019.
The IT-LL-204 New York State Domestic and Foreign LLC, LLP and Partnership annual filing fee are required for all businesses operating in New York State. If you need help with this filing, please contact TABS.
Corporate Income Tax Season is Underway
After the longest government shutdown in U.S. history there is an enormous backlog of unprocessed correspondence with the Internal Revenue Service (IRS). As a result, response times for any inquiry are slower than in previous years. As such, if you need to file a tax election (whether IRS Form 2553 Election by Small Business Corporation or IRS Form 8832 Entity Classification Election) before filing taxes, we suggest you do so as soon as possible
For corporate taxpayers, the due dates for filing tax returns, or a timely extension, have not changed; they are March 15th for multi-member LLC's and S-Corporations and April 15th for corporations and single member LLCs. Failure to timely file can result in the accrual of substantial penalties and interest (please see Penalty Increase for Failure to Timely File Form 5472 below). So please plan accordingly!
Get in touch with your CPA or tax preparer as soon as possible. TABS does offer Income Tax Support and Administration Services. For more information regarding these services please contact Hana@tabsinc.com
By working together with TABS on your tax documentation now, we can work with your CPA to try and avoid any delays in filing your return and ensure that you reduce your tax burden as much as possible. By filing early, you will also avoid having to wait for any refund you may be entitled to.
If you plan on filing a request for an extension of time to file, please keep in mind that at the time that your request is made (which must be made prior to the deadline for filing or it will not be accepted) you must pay a minimum of 90% of your final tax obligation to qualify for an automatic extension. If it later turns out that your tax obligation is larger than anticipated and you failed make payment of at least 90% of that amount, your extension request will be denied retroactively and you could incur substantial penalties in the event that Form 5472 is also required.
Contact your CPA as soon as possible, the closer to the deadline you get, the more busy your CPA will be.